Anti-plastic sentiment globally is at an all-time high, and rightly so. Every year over 300 endangered marine animals die because of plastic waste and because of being inadvertently caught in fishing equipment. And that's in Thailand alone: the numbers related to marine plastic pollution globally are increasingly staggering.
The good news is that brands have been in the midst of a momentous shift away from single-use plastics – things like straws and other food containers have been on their way out. 7-Eleven is one of the largest retailers in the world, with almost 70,000 stores in 17 countries. Since 2019, they've rolled out a ban on plastic bags in several countries including Japan, Singapore, and Thailand. Yet they are far from alone among retailers, brands, and other organizations in taking action with a ban on polluting plastics.
Governments have also put their own bans into legislation. Canada and the European Union have decided to make many single-use plastics illegal by 2021. The Ellen MacArthur Foundation, in collaboration with the UN Environment Programme, has gathered agreements from hundreds of international businesses and organizations to create a global circular economy that includes the continued use of plastics, but eliminates the harmful disposal and dumping of those plastics.
On the 17th of of April, 2019, the most senior members of the government of the Kingdom of Thailand approved, "The Roadmap on Plastic Waste Management 2018-2030" aiming to reduce and stop the use of single-use plastics and replace them with environmentally friendly materials. In short, 2019 proved to be a hopeful year for limiting unsustainable damage to natural life and our environment.
But then the Covid-19 pandemic happened.
With the onset of the pandemic, health and safety concerns quickly reversed trends toward using more sustainable packaging. A sharp increase in single-use plastics from gloves, to bags, beverage bottles, and innumerable disposable items used in hospitals has turned back the clock on so much progress in so little time.
Thai Beverage Can (a Joint Venture with Ball Corporation), Chabaa, and Little Big Green are three companies that saw the need for intervention and action. That's why in early 2020, they created the "YES I CAN" initiative. Yes I Can promotes the sustainable packaging characteristics of aluminum in order to improve and counter activities that pollute the environment.
Although aluminum cans are typically used for soft drinks, beer, and energy drinks, they are certainly just as viable for pure drinking water. Because drinking water is more often than not packaged and delivered in plastic bottles, pushing to move water in aluminum cans would shift the model to one where less plastic is being used to begin with and the cans will be returned to the existing circular economy infrastructure, one for which cans have been especially well designed for.
With the goals of "Yes I Can" in mind, Thai Beverage Can, Chabaa, and Little Big Green agreed on a plan to support the efforts of front-line medical workers and collaborated to provide 50,000 aluminum cans of water to the Thai Red Cross Disaster Operation Center in May 2020. The Red Cross program is under the patronage of Her Royal Highness Maha Chakri Srindhorn and includes a mobile kitchen distributing 1,200 meals per day for Thai and migrant workers affected by the Covid-19 pandemic.
With such an important cause in need of support, Scantrust also saw a clear opportunity to contribute alongside the consortium of three companies to the Covid-19 relief efforts. First, using our connected goods platform and printing a dynamic QR code on the "YES I CAN" aluminum cans, we could support the promotion of the campaign by making it easy to deliver the story and increasing awareness about how the cans are keeping plastic out of our oceans and environment during an especially critical time. Second, because the water being consumed is helping people in need, both healthcare workers and others in some acute need, can scans can provide a metric by which to measure the results of the campaign, which can help make the program more effective and improve on similar efforts in the future.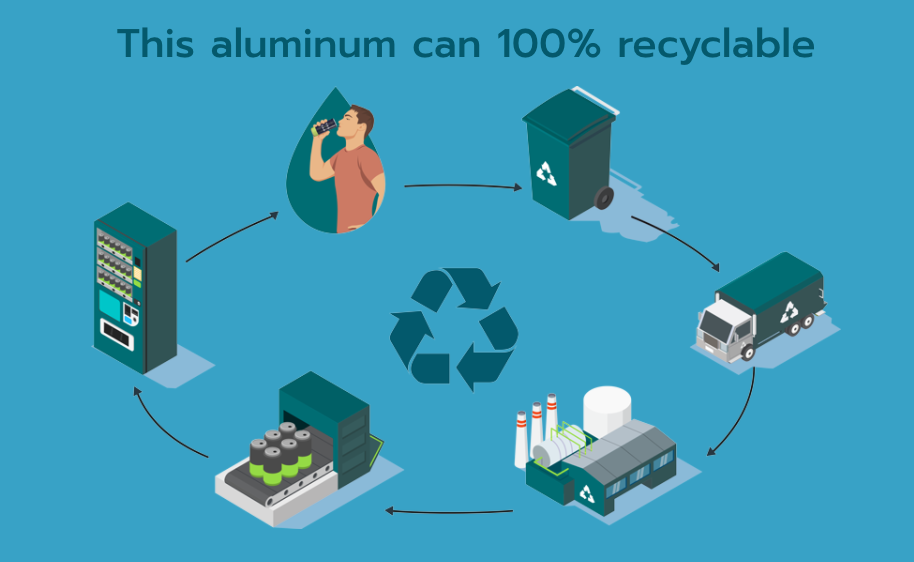 In this small way, Scantrust is promoting sustainable packaging applications and supporting the all-important efforts of the front-line health workers in Thailand.
If you are interested to learn more about this story or how a similar application could work, feel free to reach out to us directly at https://scantrust.com/request-a-demo